Your challenges are our challenges, ask us
We offer a full range of nut covers to protect :
– Hexagonal or cylindrical nuts
– Mounted with washers or without washer
– From size 1/2 ″ to 4 ″ and from M12 to M100
Today there are two ranges of products depending on the temperature of use :
Type C : For a temperature of -30 ° to + 80 ° Celsius
Type S : For a temperature of -60 ° to + 250 ° Celsius
To avoid any confusion during use, type "C" is black and type "S" is gray.
A very readable engraving identifies the size of the nut cover.
These nut covers can be used in combination with a "marine" type grease or "molybdenum disulfide" type powder.
– Good characteristics of resistance to hydrocarbons (except partial or total immersion)
– High dielectric strength up to 100 Kv / mm
– Flash point : 800 ° C
Type "C" model :
Compatibility with standard EN 13463-1 (April 2009), Paragraph 8,5,8 Annex D "Non electrical equipment for use in potentially explosives atmospheres – part 1: Basic method and requirements"
As soon as the right conditions of use are applied for the fitting of our nut covers, we can guarantee :
Very high frequency of reuse after dismantling
10 year warranty on continuous use
After 1620 hours of aging in a severe corrosive atmosphere, the aged assemblies with nut cover show no trace of corrosion – salt spray Cupro-acetic according to ISO 9227 (CASS mode)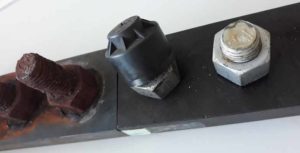 We offer a full range of nut covers to protect all assemblies on threaded rods.
In the fields of energy, construction, naval-maritime and pylons :